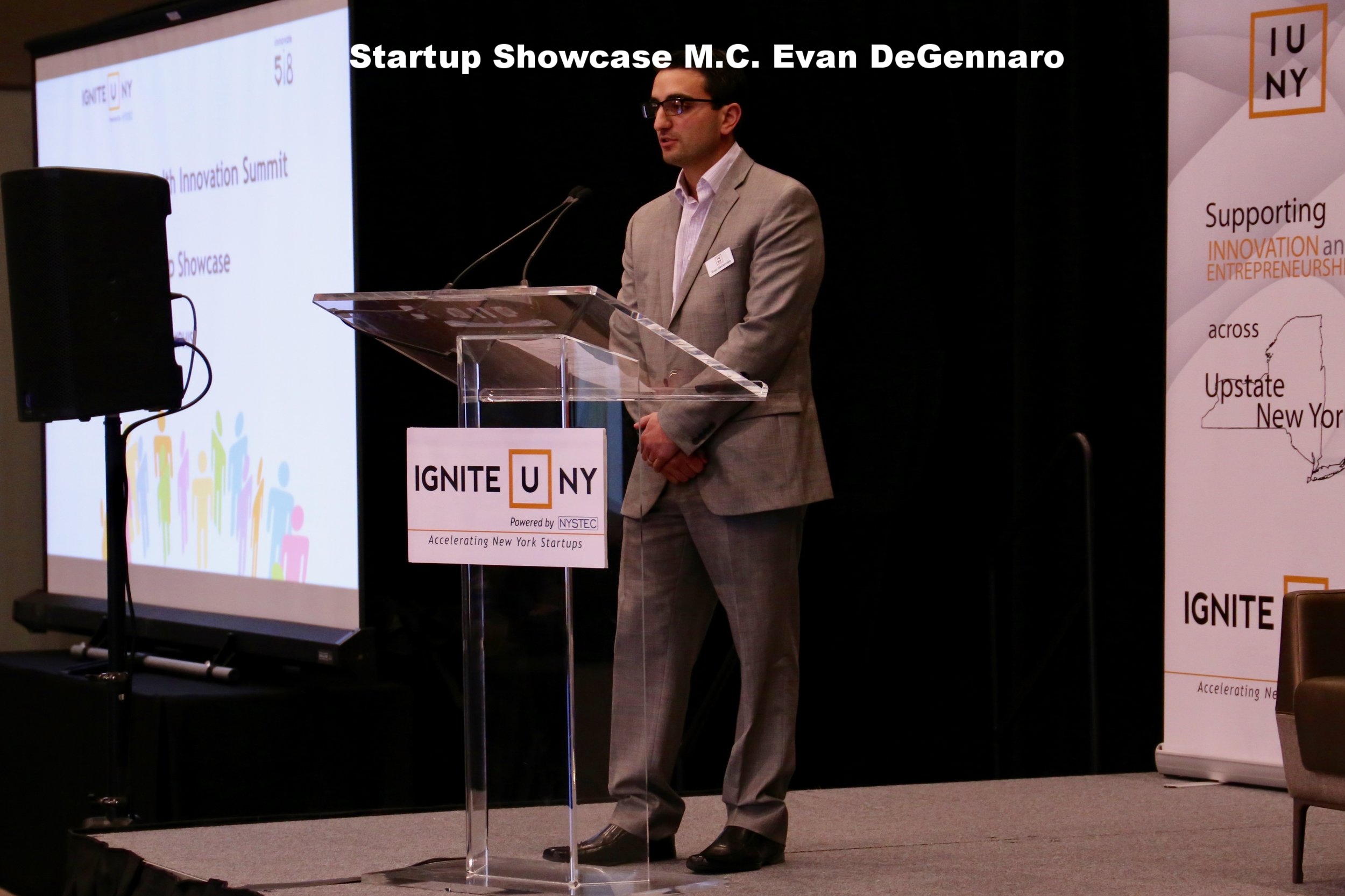 The Population Health Innovation Summit took place on Monday, March 27, 2017, at the Albany Capital Center. The summit, which focused on the intersection of information technology and population health data, brought together local and regional thought leaders, industry experts, startups, and community stakeholders for a full slate of presentations, conversations, and networking opportunities centered on the delivery of vital healthcare and wellness services to New Yorkers.
This program was approved by HIMSS for up to 4.75 continuing education (CE) hours for use in fulfilling the continuing education requirements of the Certified Professional in Healthcare Information & Management Systems (CPHIMS) or the Certified Associate in Healthcare Information and Management Systems (CAHIMS). CEU Tracking Form – Population Health Innovation Summit
Advancements in health technology and data science can…
• Support dynamic collaboration among providers
• Meaningfully engage and empower patients
• Enable insurers to base compensation on value and quality
Learn more about the new tools and methods for working with population health data to visualize patterns, identify problems, and spark ideas and creative solutions to help improve population health, patient experience, and healthcare affordability.
Kathy Alonge-Coons
Commissioner of Mental Health
Rensselaer County
Emily Leckman-Westin
Director of Data Analysis, Bureau of Evidence-Based Services and Implementation Science
NYS Office of Mental Health
Tom Check
President & Chief Executive Officer
Healthix
Ginny Shubert
Co-Founder & Vice President of Research
Housing Works
Shannon Kinnear
Practice Lead, Population Health Strategy
NYSTEC
Keith Algozzine
Co-Founder & Chief Executive Officer
UCM
Karen Sheehan
Program Manager
Albany Stratton VA Medical Center
Jennifer Gilchrist
Regional President, East Coast
Landmark Health
Kevin Murphy
Chief Executive Officer
Principium Health
Matt Grattan
Director of Community & Economic Development
SUNY University at Albany
Larry Toole
Co-Founder & Chief Technology Officer
Incentivate Health
Dr. Steven Buslovich
Co-Founder & Chief Executive Officer
Patient Pattern
Kurt Lozier
Co-Founder & Chief Executive Officer
Somml Health
Paul Francis
Deputy Secretary for Health and Human Services
New York State
Dr. Lorna Thorpe
Professor; Vice Chair of Strategy & Planning, Department of Population Health
NYU School of Medicine
Kevin Owens
Director of Service Delivery, Health Information Technology
NYSTEC
Dr. Jacob Reider
Chief Executive Officer
Alliance for Better Health Care
Jim Kirkwood
Director, Division of Health Care Innovation
Office of Quality and Patient Safety, NYSDOH
Dominick Bizzarro
Executive Vice President, Business Development & Infomatics
MVP Healthcare
Courtney Burke
Senior Vice President & Chief Strategy Officer
Albany Medical Center
Mark McKinney
Chief Executive Officer
Hixny
Keegan Bailey
Founder & Chief Value Architect
Navaste Health
Kathleen Mattice
Chief Clinical Officer
CapitalCare Medical Group
Dr. Kallanna Manjunath
Chief Medical Officer
Albany Medical Center PPS
Kathy Miller
Director of Population Health
Bronx Regional Health Information Organization (RHIO)
Kathy G. Alonge-Coons
Commissioner of Mental Health
Rensselaer County
IgniteU NY is a Capital Region startup accelerator, helping to fuel New York startups while supporting the Region's innovation ecosystem. IgniteU NY is powered by NYSTEC, a not-for-profit technology consulting company comprised of cross-functional IT professionals and health care policy experts. We partner with healthcare organizations, state agencies, institutions, and business clients for IT strategic planning, innovation, data science, and cybersecurity services in the population health domain.
Innovate 518 is the Capital Region's Innovation Hot Spot, which orchestrates a robust and connected entrepreneurial ecosystem of incubators, accelerators, and support organizations to assist in growing sustainable and scalable technology ventures.